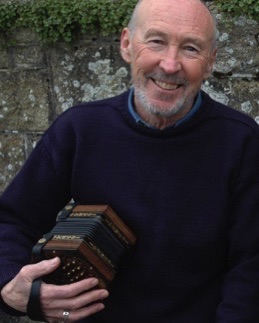 Born in Scotland, and now living in Cornwall in England's balmy southwest, Alistair Brown has been singing the old songs, and new songs written by people who like the old songs, since he was fifteen years old.
For many years, he lived in Canada, where he was active in many aspects of folk song and dance, as a recording artist, radio broadcaster, reviewer, columnist, festival director, dance teacher, university lecturer, and program director at folk music and dance camps. With several visits each year, he continues to make regular appearances in North American folk clubs and festivals, performing solo, or with the Friends of Fiddler's Green, a band which celebrated its half century in 2021, without maturing in the slightest.
Now he lives in Cornwall, on England's Mediterranean coast, where he calls dances with the Newlyn Reelers and Tinners, and performs regularly in folk clubs, festivals, pub sessions and several ancient seasonal rituals that require the presence of accordions. When he's not performing solo, he sings and plays with Peter Wray. He is also a member of the Golowan Band, which leads the processions for the Mazey Day festivities in Penzance, and numerous other Cornish festivals. He joins Bagas Porthia several times a year to take part in St Eia Day celebrations in St Ives, and to lead the guisers around at midwinter.
Audiences at concerts and festivals across North America, Australia, New Zealand and the UK have responded enthusiastically to his performances, covering the field from big ballads, comic ditties, songs of struggles (usually unsuccessful) against temptation, odes to conviviality and songs of unashamed sentimentality, to outrageously funny stories from a master of the art - all this accompanied by anglo concertinas and button accordion.
He has played at many of North America's major folk festivals, been MC at many festivals and concerts, including hosting a symphony concert for an audience of 5000. He has been guest soloist for three different symphony orchestras, and appeared on numerous radio and television programmes. He has called dances and has played in several dance bands. He has run folk music courses at university, and has for several years, been artistic director for summer residential music programmes and of a major folk festival. His radio work includes 25 years as producer/ host of A Sign of the Times, in Ontario. For five years he also hosted Off She Goes, syndicated nationally in the USA on National Public Radio.
Alistair has performed in Australia, New Zealand, the US and Canada, as well as in clubs and festivals in the UK.
"It was great to have Alistair Brown perform at The Shack in Sydney, Australia .
Alistair gave a superb performance, entertaining people with his amusing and interesting stories and his knowledge of the history of the traditional songs he performed . With his talented concertina playing and strong voice he presented some lovely Scottish ballads and some contemporary songs in the folk tradition . He is a folk singer in the true sense of the word"